Curtin University's digital research institutional repository is espace, a digital collection self-archived research output of Curtin's staff, students and affiliates. espace stores Curtin affiliated peer-reviewed journals and conference papers, working papers, reports, books, book chapters and theses.
According to the Authorship, Peer Review and Publication of Research Findings Policy, authors will ensure that publications are freely available within 12 months of publication via espace.
How do I submit my research output to espace?
Research output entered in Curtin's research management system, Elements, will be automatically harvested into espace. Check out espace FAQ for further details.
Which version of the work should I deposit?
Publisher policy and terms in your publishing agreement will determine which version should be deposited. Generally, publishers allow deposit of the author's accepted manuscript of a publication into an institutional repository.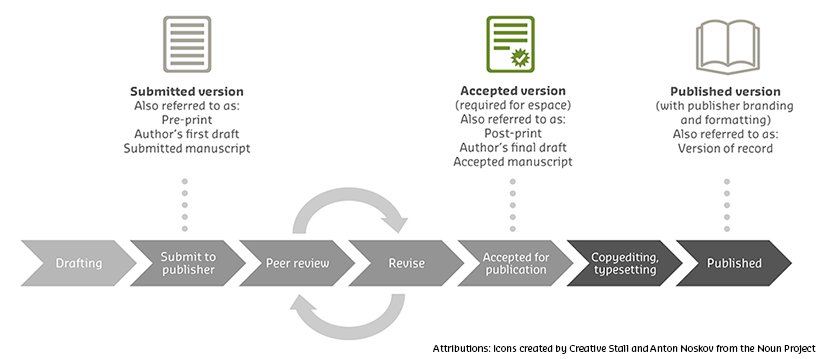 Library staff will always check publisher permissions and enable appropriate level of access, and will only include the full text if:
The author retains the copyright for the material, or
Copyright agreement between the publisher and the author allows it, or
Permission to deposit the paper has been granted by the publisher on request, or
The author has published an open access journal.
Learn more about Copyright and Preventing exploitation of your research output.